When I was given 1 in 16 odds that my baby would have Down syndrome, I thought that getting to be the 1 was somehow the unlucky thing to be. See, I've always been the luckiest person I know. I have a great great life.
So, right after the words "She's beautiful and she's perfect and I'm quite certain she has Down syndrome" came out of my good friend (who decided to be an OB instead of the psychiatrist I always thought she would be), I started questioning my luck. It just didn't make sense. Why did my luck suddenly run out?
I spent about 2 weeks questioning where my luck had gone. Then I woke up from my fog, and I looked at Violette. And things were about 85% totally normal in our lives. Then they were about 95% totally normal. So I stopped thinking about where my luck had gone, and just started living. And Violette was so sweet. And then I started to realize, that I was meeting new people, had this wonderful support team I got to work with, and I met other parents of kids with Down syndrome. I saw how great, and yet normal their lives were. And then I saw how great their kids were. And then I met person after person who had a child, or a sibling, etc. Then I listened to every single presentation from the Down syndrome Conference in Kansas City. And I heard so many adults with Down syndrome say "I have the best life ever."
Finally, I was looking at Violette giving me a sweet little grin where her whole face turned inside out, and I realized I
was
the lucky one to be the 1 in 16.
(here is that face I was talking about, lol)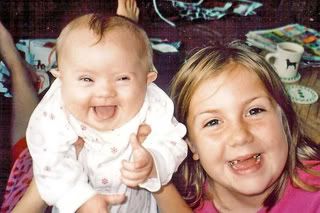 Anyway, why all this talk about luck? We went to the Children's Theatre Gala for the Cincinnati Children's Theatre. They raffled off 6 prizes. As I was putting my tickets in the baskets, I thought. I'm so darn lucky. I bet I win something.
And we did! We won a big huge Bengals basket at the Children's Theatre gala tonight! 4 Tickets to a home game plus a parking pass, plus a ochocinco t-shirt, a sweatshirt, a signed football by Anthony Munyoz, a magnet for our car, a bumper sticker, a cap and a night at the Omni Netherland Hotel!
I never lost my good fortune. It keeps coming to me. I don't understand why, but I'm very very very thankful for it.