When I was given 1 in 16 odds that Violette would have Down syndrome, one thing I did was check out our local resources when it came to DS. I went to our Children's Hospital Website, and found this page:
http://www.cincinnatichildrens.org/svc/alpha/d/disabilities/clinical/down-syndrome-center.htm
I called Steve over to the computer, and said "look at that little girl...we could love her easily!" He agreed, she was adorable, and yes, it wouldn't be a problem at all to love her or parent her.
Since Violette was born, we've had so many wonderful experiences with the Thomas Center @ Cincinnati Children's Hospital. Violette goes up there every so often (odd times - I never like to do things on any regular basis, so we might go for a 17 month visit, or a 27 and a half month visit coming up, lol.) They have a team of experts at the Thomas Center focused on one thing - Children and Adults with Down Syndrome.
We have had their Physical Therapist look do an evaluation. We've done Occupational Therapy there. We are currently going to speech therapy there. We have loved EVERYONE on the staff (Miss Jennifer, her speech therapist is AMAZING with Violette.) Katie, David, Fran, Dr. Mattais - all of them are so great, and I feel interested in helping Violette any and every way they can.
Many people on the staff at the Thomas Center have Children with Down syndrome, or siblings with Down syndrome. It is such a joyous, hopeful place for us to go.
They have a new Director in place named Dr. Karen Summer. She is very much into research, and learning more about Down syndrome. We are really excited about what she will bring to the Down syndrome community in terms of knowledge.
They also have a woman who will look over any
IEP's
to make sure they make sense.
Vi is even a poster child of sorts for the Center - if you look on this banner from the Buddy Walk, the little silly thing (wearing Lilly Pulitzer which is funny if you read
this
post) second from the right is Vioette!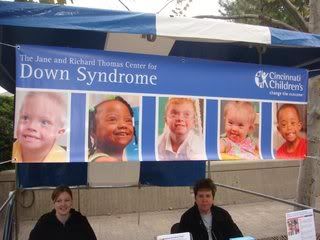 We're lucky to have the Thomas Center in Cincinnati.